---
KARACHI: The Pakistan Stock Exchange (PSX) remained in the grip of selling pressure on Thursday as the KSE-100 index plunged over 600 points in a tumultuous session.
Political turmoil around Punjab by-polls and the chief minister's election has instilled panic in investors' minds, motivating them to sell off their holdings.
The benchmark KSE-100 index remained on a downward trajectory since the trading began with no positive triggers as stocks faced selling pressure across the board.
According to Arif Habib Limited, the KSE-100 index decreased by 1.55% day-on-day which is the lowest level since November 23, 2020. It further added that the index has declined by 4.1% since the start of the fiscal year 2022-23 and 10.7% since the start of the calendar year 2022.
Pakistani rupee continued to fall — plunging to an all-time low of 226.81 against the US dollar in the interbank market — which also forced the investors to stay on the sidelines as rupee-dollar parity continued to dampen sentiments.
At close, the benchmark KSE-100 index closed at 39,831.75 points with a decline of 627.95 points or 1.55%.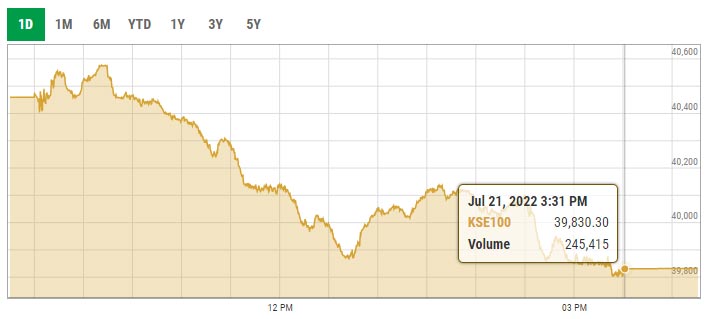 Shares of 333 companies were traded during the session. At the close of trading, 40 scrips closed in the green, 269 in the red, and 24 remained unchanged.
Overall trading volumes rose to 157.99 million shares compared with Wednesday's tally of 141.74 million. The value of shares traded during the day was Rs4.28 billion.
WorldCall Limited was the volume leader with 16 million shares traded, losing Rs0.06 to close at Rs1.21. It was followed by TPL Properties with 11.87 million shares traded, losing Rs1.31 to close at Rs16.25 and Unity Foods with 10.04 million shares traded, losing Rs1.35 to close at Rs16.72.