Misha Japanwala, an extraordinary visual artist, has swiftly made her mark in the art world, captivating audiences with her profound creations that challenge societal norms. Despite her remarkable achievements in a relatively short span of time, she faces unjust backlash from individuals who associate female bodies with shame. In light of the same, Misha, in her recent Beghairati Ki Nishaani: Traces of Shamelessness aims to offer a historical record of a population governed by the laws of shame.
In conversation with The New York Times, she sheds light on the unnecessary criticism she has to endure and everything about her latest series.
Redefining Shame: A Tool for Control
The New Jersey-based artist, who spent several months in Karachi last year making body castings of local women and queer folks, explained how, in a nation plagued by widespread violence against women, challenging social norms and being labelled "shameless" can put one's life in jeopardy. 
Merely participating in an Aurat (Women's) March – a peaceful demonstration advocating for women's rights – has resulted in horrifying threats of murder and sexual assault. Furthermore, conservative and religious leaders have actively campaigned to legally prohibit Aurat Marches. "When so much of our existence has been subject to a campaign of disappearance, this collection is a present-day, physical reminder that our lives and our stories are part of the fabric of our people, and will continue to be so even hundreds of years from now," Misha tells the outlet. 
Misha's Beghairati project was born in the wake of criticism she received for her thesis collection at Parsons in 2018: a series of pieces cast from her own body reflecting on and exploring her personal relationship with shame, the one she inherited in Pakistan. "My thesis was the first time I was actually able to reflect on my identity and understand what a gift my body and my agency was," she adds. 
As Misha's works graced the pages of renowned publications like Vogue Spain, notable figures like Cardi B, Julia Fox, and Joy Crookes embraced her art. Despite her exceptional accomplishments, though, the comments under pictures of her work on Instagram are littered with strangers calling her shameless, sick and obscene, in both English and Urdu. 
It was because of this that Misha developed an "obsession" – as per the publication – with the concept of shame, transforming shamelessness into an area of study. Through her art, she unveiled a crucial insight: shame and modesty are separate entities with no inherent connection. She recognized shame as a pillar of patriarchy, a tool for control, and an obstacle to individual liberation. Misha Japanwala's artworks call for society to reconsider its perception of shame, urging the dismantling of oppressive norms that restrict self-expression and self-worth.
Symbolism within 'Traces of Shamelessness'
Around the time her idea began to seed, Misha's grandmother died, leading her to the cemetery, outside which she'd watch workers carve marble figurines and inscriptions into grave stones. Having witnessed her own city fall apart with crumbling building facades, torn up streets and no infrastructure to fix them, Misha knew she had had a glimpse of something that resembled the end of the world. Her latest collection, thereby, is a fictionalized time capsule of sorts, symbolising what today's fight for gender equality in Karachi and Pakistan will look like hundreds of years from now.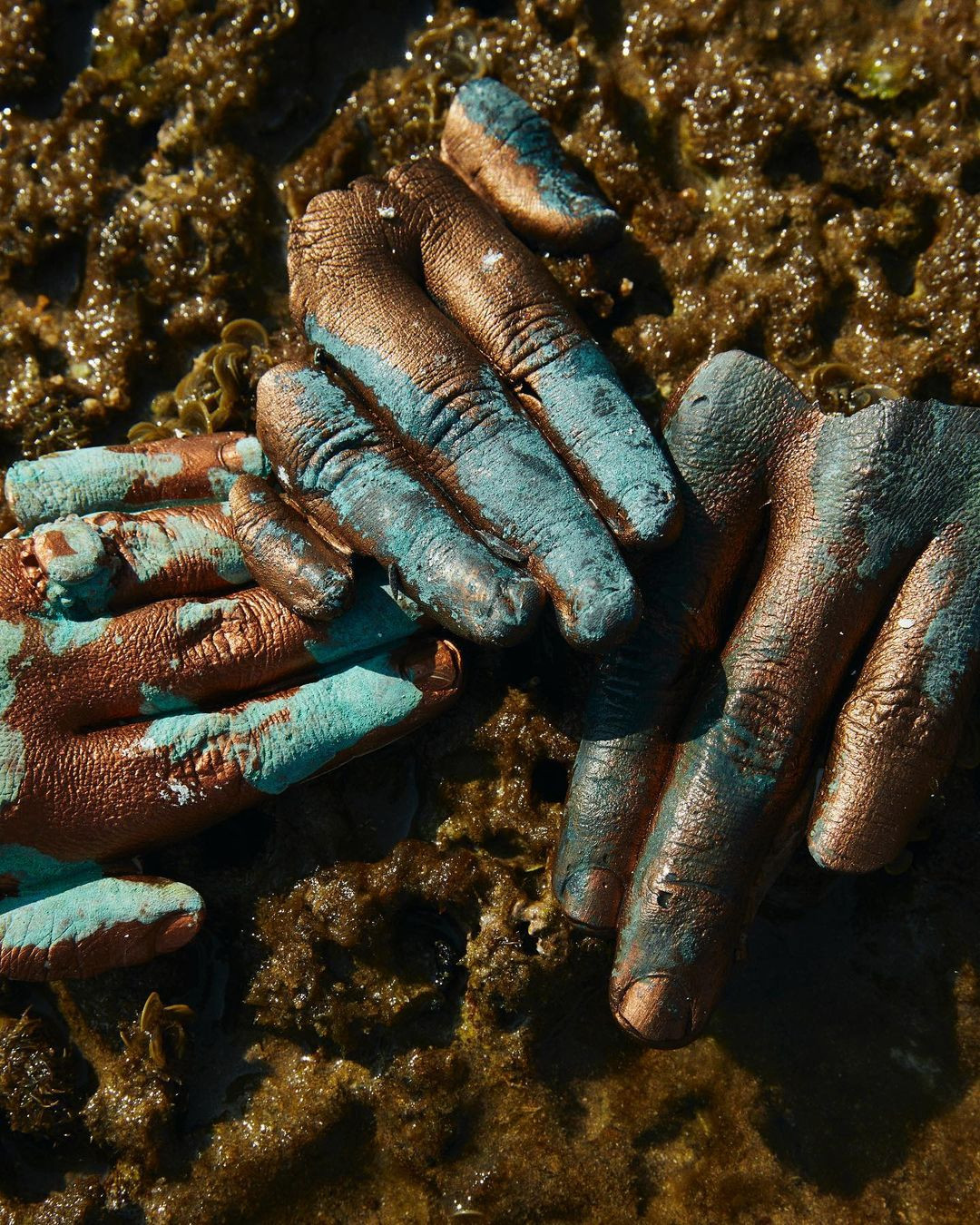 There are three parts to the collection. The first being the core, features body castings of Pakistani artists and painters who fearlessly embrace shamelessness in their creative endeavours. These individuals defy societal expectations and challenge traditional norms, serving as beacons of inspiration for others seeking liberation. The second is a collage of hand sculptures of artists, filmmakers, writers and educators who are forging paths to a more gender-liberated society titled Hands of a Revolution. The last is an anonymous project where nipples serve as unique fingerprints of the subjects, some of whom are recently divorced, transitioning or survivors of breast cancer.
Among Misha's muses are Sharmeen Obaid-Chinoy, the Oscar-winning documentarian, and Dua Mangi, a woman who survived an abduction that launched a national debate over victim blaming.
'Exposed and armoured'
Meetra Javed, a filmmaker who made a short fashion film of Misha's collection, told The New York Times, "She is unafraid of pushing boundaries, questioning status quos and creating conversations around the liberation of the body." The short also features an unreleased song by Ali Sethi, who recently performed at Coachella, and Gregory Rogove. "I'm struck by the poetry in Misha's work, which turns nakedness into a paradox of existence: When we wear her breastplates, we are both exposed and armored, bare and barricaded," Ali shared with the publication in an email. "When she asked me to lend a piece of music for the video, I sent my most spare, empty, 'naked' composition yet."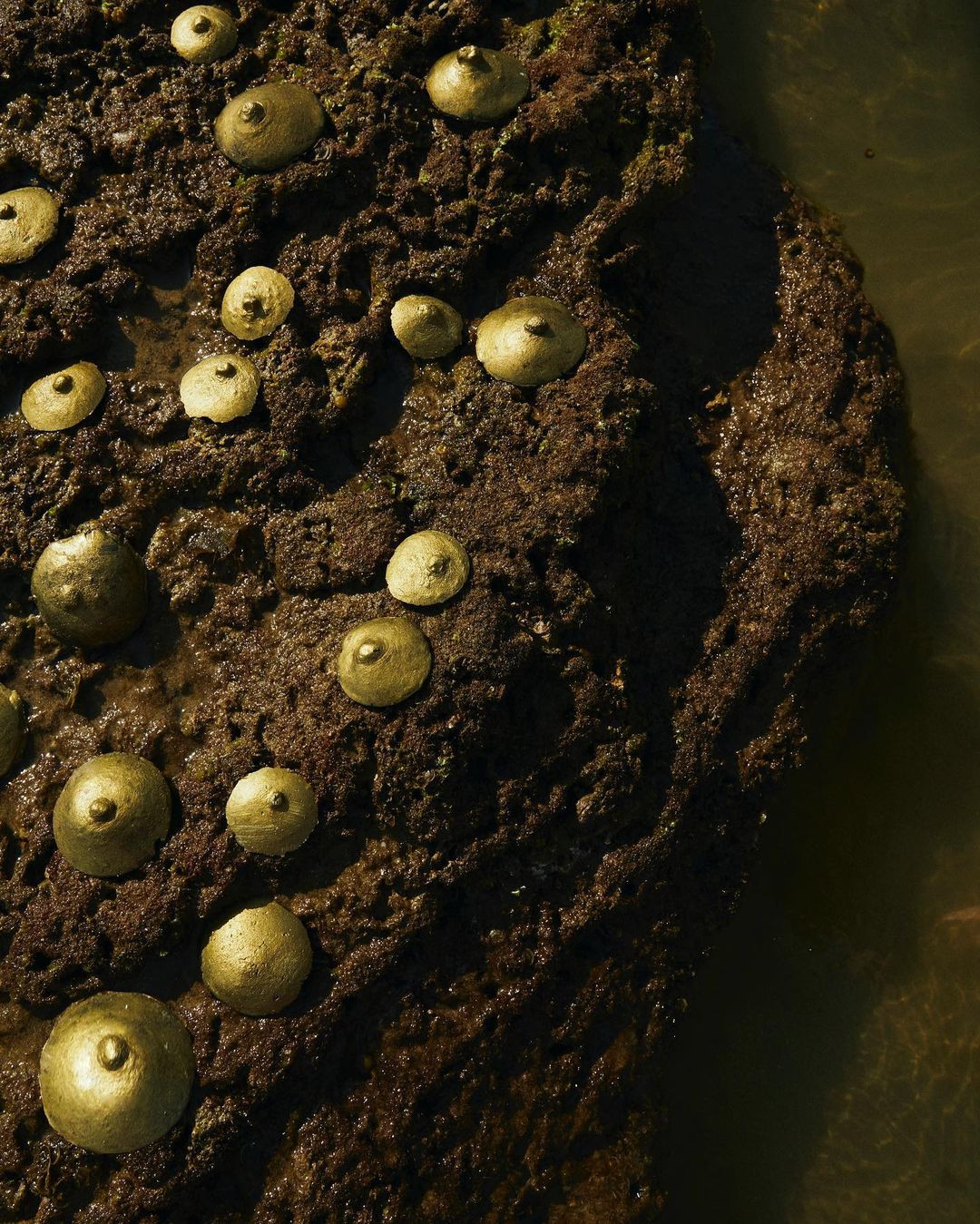 After the devastating floods in Pakistan last year, Misha also translated the natural disaster into her work showcasing an imaginary future that she creates with her collection. Misha shares that she wanted remnants of old life to be washed up on the coast of Karachi at the end of one civilization and the beginning of another: "When the world ends, that is going to be ground zero, you know what I mean?"
Have something to add to the story? Share it in the comments below.