Creative director Faiza Saqlain has weighed in on the Iqra Aziz-Saboor Aly fiasco. Taking to her Instagram Story, Saqlain shared, "So there's a lot of noise regarding a bridal jora that we made, and I just feel that this needs some clarity. I totally understand the sentiments that a bride might have with her bridal dress, but suggesting colours and some minor details does not give copyrights of the design to the bride. All brides customise, make changes, or come with suggestions for a completely newer look."
She continued, "Neither the silhouette nor the work is something I hadn't done before, neither is it something that we came up with for the first time for that particular event. It's a very classic silhouette being worn by many brides even before this particular design was created. It's always the mixture and assemblage of crafts that makes the design a particular brand's."
Continuing further, she said, "I feel there wasn't any need for this uproar, especially when designers do a favour and take time out to design time-consuming looks like bridals in return for neither money nor any other major collaborative benefits. This particular jora is completely an FS Bridal, and we have all the rights to sell it and/or give it for further collaborations."
The creative director of the eponymous label was referring to Aly's take on Aziz as having "blatantly copied" the former's bridal look for her show, Mannat Murad. Aly took to her Instagram Story to share her sentiments about the incident, expressing disappointment over what she perceived to be a blatant copy of her most cherished memories.
Sharing a report by a local publication on her Instagram Story that placed her and Aziz's looks side-by-side, the star expressed her disappointment, saying, "And how am I supposed to feel about this? My moment, my memories, my sentiments, my vision, and my look for the most special day of my life. My heart was put into every little detail of my entire look. However, there's a difference between being inspired and copying. Special day copied blatantly."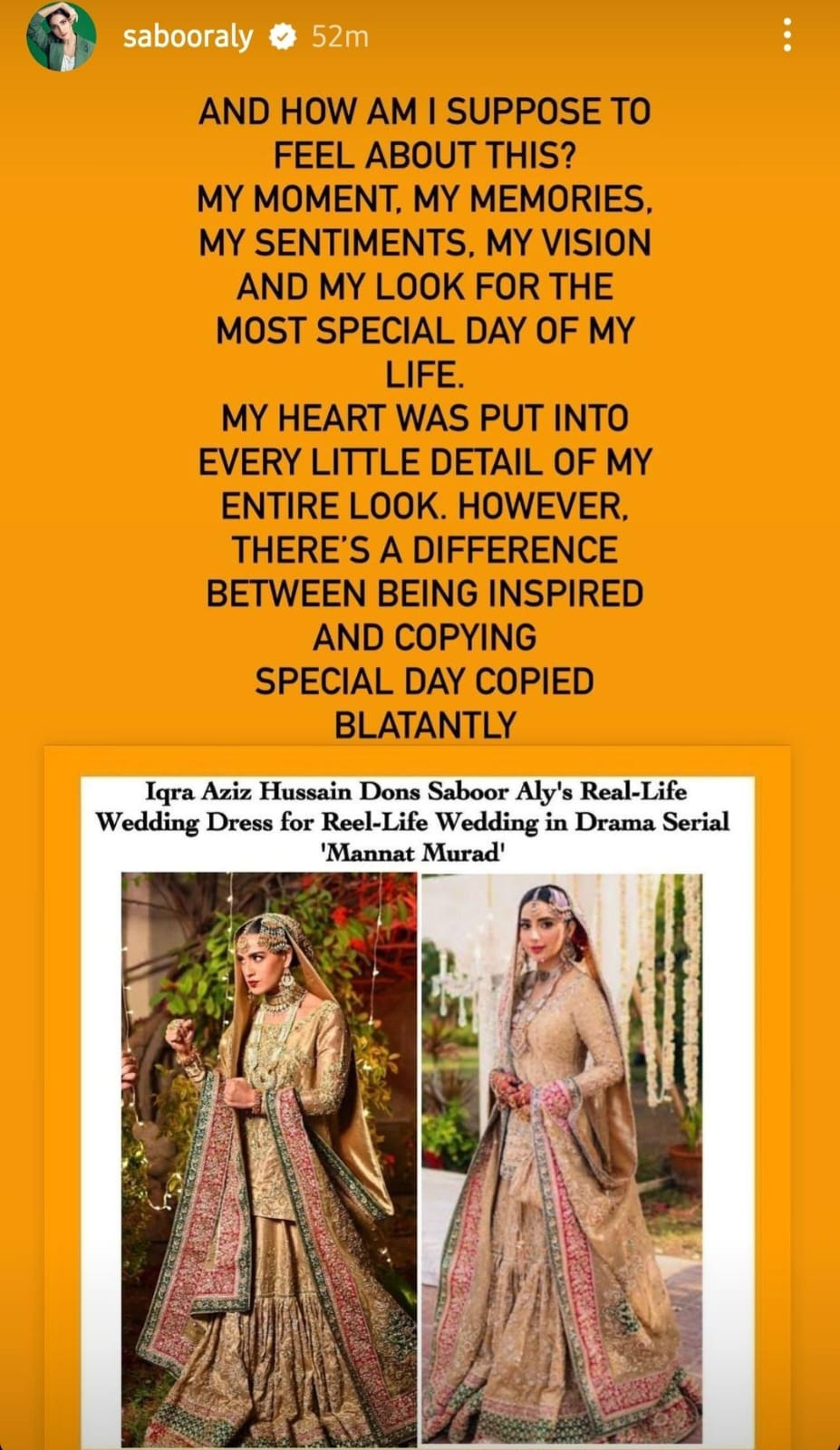 Aly, who tied the knot early last year, donned a stunning gold ensemble on her wedding day, radiating elegance and grace. The bride chose a traditional gharara with a green and red border, paired with a matching dupatta pinned over her head in the classic bridal style. Her accessories included a meticulously selected choker and maala set, complemented by a jhoomar and teeka. Opting for soft makeup, the actor showcased brown eyes and a red lip, creating a timeless look suitable for a daytime ceremony.
Have something to add? Share it in the comments