07 September 2022 will go down in history as the most stress-inducing day of the year for Pakistani cricket fans. With Asif Ali as the eighth batsman being sledged with 11 runs to make in mere 6 balls, everyone had lost hope, except Naseem Shah.
A bowler smashing two glorious sixers in the last over had the whole country, quite literally, screaming with joy. Commentator and former cricketer Wasim Akram, who had witnessed Javed Miandad's iconic sixer firsthand, said "even he [Miandad] couldn't have pulled off such a sensational finish at Naseem's age!"
What a game… even I can't take such a sensational finish at this age! Boy, what great sixes by young Naseem Shah… I was part of the team when Javed Miandad hit that last ball six… 26 years later today I witnessed two last over sixes… sensational stuff !#boysingreen

— Wasim Akram (@wasimakramlive) September 7, 2022
Playing against Afghanistan, the match was essentially a qualifier for the men in green into the finals. From barely being able to chase a 130-run target to losing all our batsmen and getting into a heated altercation on the field, Twitter had a thrilling meme run.
Regardless of the mini heart attacks, though, Pakistan won by one wicket and celebrities including Asim Azhar, Nabeel Qureshi, Sajal Aly, Mira Sethi, Shaan Shahid, Ali Zafar and others took to their social media to congratulate the team and crown Shah 'Miandad 2.0' for helping us win an otherwise, lost match.
Ode to Naseem Shah
Azhar, with all his emotions, stayed online throughout the match. While celebrating Pakistan reaching the final, he took to Twitter and wrote, "What a way to qualify. I love these boys and this team."
Declaring himself as a "cricket fanatic" for over 20 years, he drew parallels between Miandad and Shah. "My elders used to tell me stories of that last ball Miandad sixer. I guess now we have something to tell our kids as well. Thanks to our heroes today," he wrote on Instagram, still in disbelief with how the match turned tables. Congratulations–team Pakistan and Naseem Shah!
Singer and actor Farhan Saeed felt this match was "by far the best match of the tournament!" and we couldn't agree more. "What a game, what innings by Naseem Shah! Unbelievable, love the courage of our guys, they don't go back foot anymore! The finals will be fun," he added.
By far the best match of the tournament! What a game, what innings by #NaseemShah ! Unbelievable, love the courage of our guys , they don't go back foot no more!
Finals will be fun. #AsiaCup2022
Congratulations Pakistan ❤️

— Farhan Saeed (@farhan_saeed) September 7, 2022
The Zarrar maker congratulated Shah for making history. "Well done Naseem Shah. Sharjah will never forget our history of last ball sixes," read his tweet.
Adnan Siddiqui is looking forward to an even more stimulating final it seems. Calling Shah the "blue-eyed boy of the moment," the Dum Mastam producer said he wants to see a hat-trick from Shah in the finals, and "of course the Asia Cup itself too."
Retweeting Pakistan Cricket Board's video where Shah talks about his last sixers, Zafar wrote, "Power of "belief". Amazing team Pakistan. You guys make us proud!"
Faysal Quraishi wrote, "What a match, what a win! What a splendid job, Naseem Shah. You gave all answers with your bat and your game."
Khan congratulated the "better" team. "Congrats Pak, the BETTER team won today."
Congrats Pak, the BETTER team won today. 🔥🔥

— Armeena ✨ (@ArmeenaRK) September 7, 2022
Faizan Shaikh said, "history repeated itself." "1. Sharjah 2. Full toss 3. Sixer 4. PAKISTAN. History repeats itself."
Aly posted Shah's image on her Instagram stories and wrote, "Pakistan Zindabad."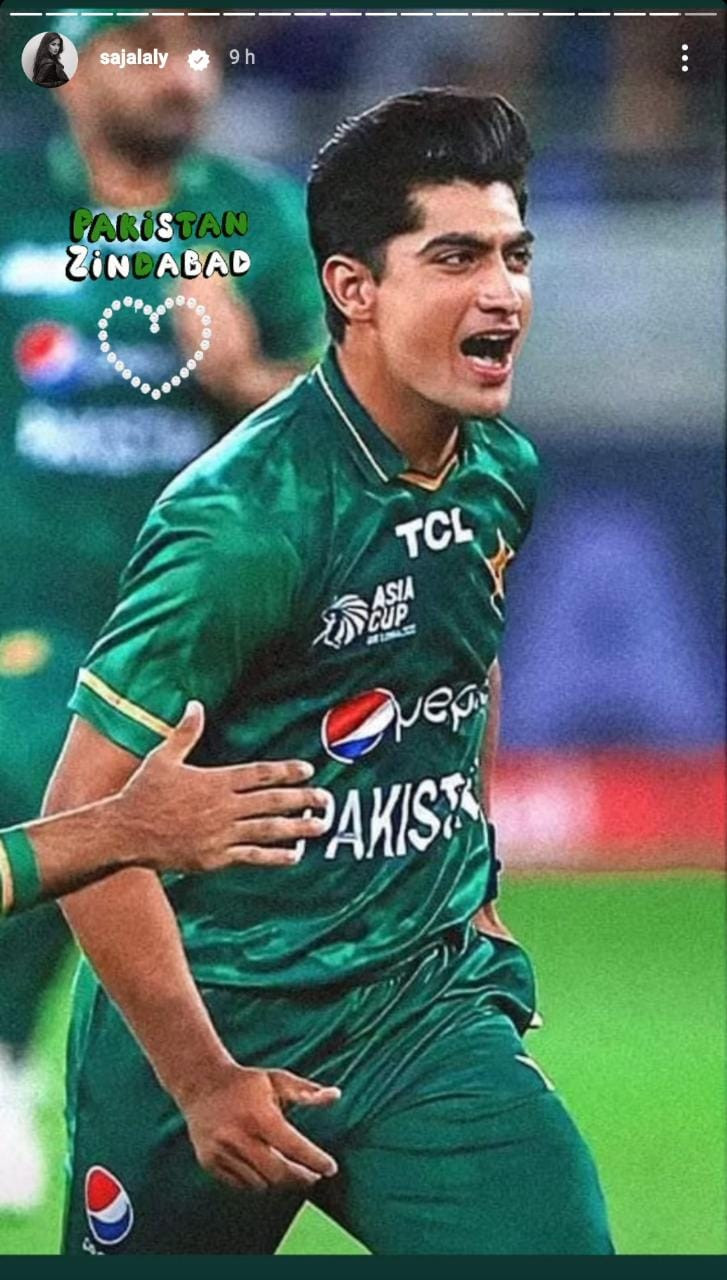 Taking a dig at Afghanistan, the Actor In Law filmmaker tweeted, "everyone will eat bread at home tomorrow, the tandoor shops will remain closed. Congratulations Pakistan."
Be a good sport, Afghanistan
While Fakhr-e-Alam appreciated Afghanistan players for the hard time they gave to the men in green, he also condemned the destruction that their fans created in the stadium. "Must appreciate the way the Afghanistan team played. They really gave Pakistan a run for their money," one of his tweets read.
Must appreciate the way Afghanistan team played. They really gave Pakistan run for their money. But what sensational stuff from @iNaseemShah ….good luck for the finals boys. 🇵🇰🇵🇰🇵🇰

— Fakhr-e-Alam (@falamb3) September 7, 2022
Sharing a video of people throwing chairs around, he added, "This behaviour by Afghan cricket fans is so very shameful & disappointing. ICC must ensure all cricketing venues are safe for fans. This violent behaviour cannot be allowed. Hope local authorities take action against all the culprits. Very very sad and disgusting."
This behavior by Afghan cricket fans is so very shameful & disappointing… @ICC must ensure all cricketing venues are safe for fans..this violent behavior cannot be allowed. Hope local authorities take action against all the culprits. Very very sad and disgusting. #AsiaCup pic.twitter.com/QGQzFoSEmn

— Fakhr-e-Alam (@falamb3) September 7, 2022