A local eatery in Karachi sparked an uproar last week after sharing its upcoming offer for men on social media. It all started when Swings shared an edited clip from Alia Bhatt's latest offering Gangubai Kathiawadi as a promotional gimmick. The said scene in the film sees Bhatt trying to attract her first customer after being sold at Kamathipura and forced into prostitution.
Following the backlash, Swings shared a picture of Vijay Raaz from the movie, who played a transgender character, Raziabai, in the Bhansali film.
This further irked many. And after heavy criticism and a tone-deaf apology, the management was called out for "capitalising on a marginalised community."
Surprisingly, Swings announced a collaboration with the trans community, sharing that they are working with the trans people to offer them jobs.
The collaboration no one saw coming
"We did what we thought was the best possible way to have your full attention," the latest Instagram post shared. "Now that we have it, we would like to explain the agenda behind the campaign done for marginalised communities. Along with running this campaign, we were also collaborating behind the scenes: opening opportunities, hiring and training them – as you will be seeing them serving you at our restaurant."
The post further read, "As much as we have hurt your sentiments, we would like this to be an eye-opener for everyone here. As expected, we received so much backlash for putting up the post involving prostitution as a marketing glitch BUT on the other hand no boycott movement for using a transgender as a marketing prop? However, we do truly apologise for using one social issue to highlight another." The said Insta post concluded with, "PS: You will be seeing transgenders serving you in our restaurant, please be kind to them. Support them."
The criticism
However, many patrons were still unsure of Swing's way of going about the aforementioned collaboration. "You could've simply posted this and received all the love and support from us. your campaign was flawed and executed poorly. It was not the best way of making this announcement," a user shared.
Another added, "Please read your own caption and let me know if you're making any sense. Because any sane person can tell you that this campaign is not just morally wrong but also a cover-up for the mess you created. Stop painting your mistakes by showing the good you're doing. We acknowledge your efforts but here you're just using your initiative as an excuse. Do better."
One more added, "How does this even make sense? You made fun of a social evil as extreme as forced prostitution in a comical way, and kept justifying that action to raise awareness about the mistreatment of the trans community? You literally picked a trans character who was shown to be a villain in the movie. And how is any of this connected to 25% off for men? Even if the intention wasn't bad, this still is the worse marketing gimmick ever."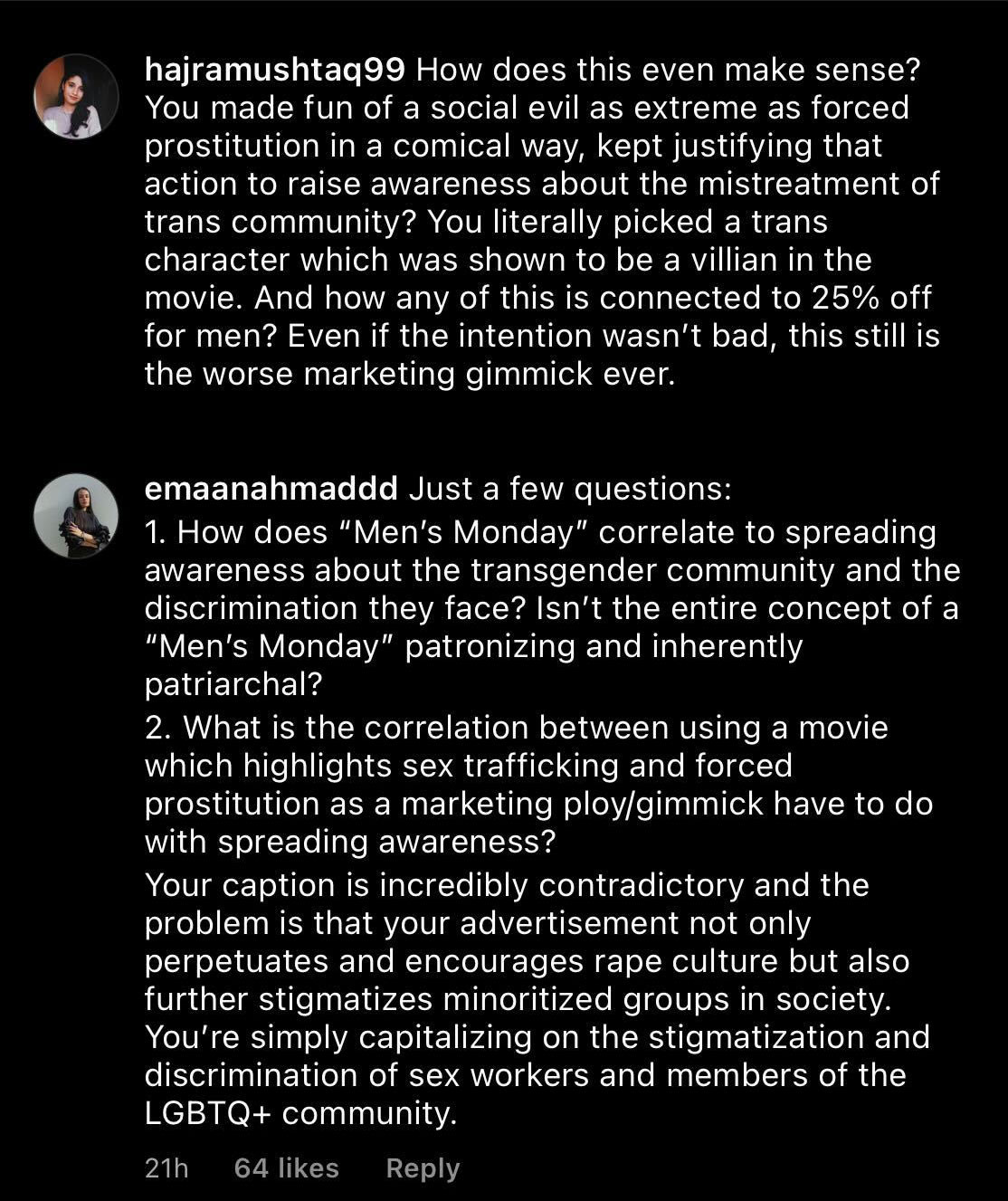 One more broke down what was wrong with the previous posts. "Just a few questions: How does 'Men's Monday' correlate to spreading awareness about the transgender community and the discrimination they face? Isn't the entire concept of a 'Men's Monday' patronising and inherently patriarchal?" Adding on, the user commented, "What is the correlation between using a movie that highlights sex trafficking and forced prostitution as a marketing ploy/gimmick with spreading awareness?" They further shared, "Your caption is incredibly contradictory and the problem is that your advertisement not only perpetuates and encourages rape culture but also further stigmatises minorities. You're simply capitalising on the stigmatisation and discrimination of sex workers."
Marketing gimmick gone wrong?
"Aja Na Raja – what are you waiting for?" the first post shared by the eatery read. "Swings is calling out all the Raja's out there. Ajao and avail a 25% discount on Men's Monday at Swings!" Soon after the post went up, many took to social media and called out the restaurant on its demeaning and insensitive take on sexual abuse.
The tone-deaf apology
After the outrage, Swings shared a meek apology and still hasn't taken down the original post. In their clarification, the eatery shared a newspaper clipping with Bhatt's same picture as the main image. The clarification drew more ire and many called out Swings for a troublesome marketing team and a tone-deaf statement.
Have something to add to the story? Share it in the comments below.