KARACHI:
Despite its detachment from corporate giants, media sponsors and metro life, Lahooti Melo has remained a crowd-puller since its inception in 2013. Undomesticated and running in the wild, the festival has always attracted mysticism and magic, luring people in without entertaining mainstream performers, leaving city-dwellers marvelling at its charm.
This year's event, albeit, did not receive the kind of media coverage the festival is used to, irrespective of being dragged from Jamshoro to Karachi, the hub of all media titans. Perhaps because its charm lied in serving as a getaway for inhabitants of the sprawling metropolis. Or perhaps because according to festival organisers, Lahooti refuses to promise the kind of royal treatment that exclusive, invite-only, run-of-the-mill gatherings do.
1- I've noticed that because of our theme "#CelebratingIndus (Sindhu)" mainstream media decided not to do a proper coverage to @LahootiMelo. I see it to be an intentional step & as I said in my speech, we've a lot of diversity but celebrating it is a big problem. #LahootiMelo2022

— Saif Samejo (@SaifSamejo) June 12, 2022
And since this year's edition concluded, organisers have been vocal about the same on social media. Thus, The Express Tribune caught up with them to understand their concerns, and they had plenty.
Owning cause-based events
"The issue is about media owning cause-based events. Certain press representatives told us they didn't receive invites… Since when does the media need invitations to cover public festivals?" asked Lahooti Melo co-founder Sana Khoja in a conversation with The Express Tribune.
Khoja emphasised on the media's responsibility to cover cultural happenings, especially festivals that run independently to raise awareness while bringing untapped talent to the forefront. "In a 2019 article by a media outlet, there were complaints about inadequate bathrooms at Lahooti. For you, coming all the way to Jamshoro to cover a festival is a challenge. But do you realise how challenging it is to pull off a festival in Jamshoro? It is a logistical nightmare! And without acknowledging that, when the media starts complaining about such nitty-gritties, overlooking the essence of the show, there is no point of the coverage," she added.
Khoja opined that perhaps the media did not attend Lahooti this year because it would have found nothing to criticise. "Taking a jibe on Twitter, I made it a point to mention that perhaps the media knew this time there wouldn't be much to complain about, so, it simply didn't show." Referring to the "kind of attitudes" she and her husband, Sketches' frontman and Lahooti Melo co-founder Saif Samejo have had to face, Khoja went on, "I can't even tell you. But the media needs to be aware of its role."
On other hand, I am satisfied by the absence of media, cuz this time they didn't find any reason to make fuss about 😁 not even washrooms ! They didn't find any reason to attend as it was 💯 perfect. So bravo for the festival which is being praised without being written 💃🏽

— Sana A khoja (@khoja_a) June 12, 2022
When asked if the lack of coverage had to with Lahooti's novelty factor being associated with it being held in Jamshoro, she replied, "Yes, Lahooti served as a getaway for artists, but even when the festival was held in Jamsoro, the media would say it is too far away. This time we came to the hub of all media giants, yet, the media did not attend. And there are numerous events to cover in Karachi every day. But how many of those events cater to people from all classes and backgrounds?" Khoja argued.
"Lahooti is an open music festival accessible to people of all ages, social classes, and genders. That is what sets Lahooti apart. Had it been just another concert or conference, we would've understood why it has been overlooked. But ours is a marriage of art and activism, the only festival hosting over 21 artists a day. We've also managed to do it in different cities. How could it have been overlooked?" she inquired.
Running wild and free
Lahooti Melo this year focused on 'Celebrating Indus'. Running alongside its annual theme of 'Eco not Ego', the festival centred on climate change, water conservation and the consequence of dams. "Celebrating Indus is about celebrating your source of life. Whether you are an activist, musician, politician or journalist, you should be able to put your ego aside and talk about eco, as well as take accountability for how you are harming the environment," shared Khoja.
Going on to illustrate how Lahooti has always physically represented the wild, free, unbarricaded rivers and world it advocates for, Khoja elaborated, "The essence of Lahooti is that it embraces nature. It is wild. It is a mela. It isn't supposed to operate like a conference or gala, where you're invited and expected to reach at a certain time, attend all panels one by one and conclude with celebrations. The reason why people remember Lahooti is because of its irregularities, its unpredictability. Its artists, who're coming from areas like Thar and Mīrpur Khās, deal with such irregularities and unpredictable challenges every day. Yet, when they come on stage, they are in tune with their music, with themselves. They care about their performance and the message they are putting across. Not about whether they're seated or standing."
Lahooti Melo '22 featured performances from the likes of Manjhi Faqeer, Mai Dhai, Saakin, Khumariyan, Mekal Hasan Band, among others. "We had quite a diverse lineup. Every culture, and language was equally represented. We had a smaller crowd than Jamshoro as we had to limit the crowd here because of the venue. Despite that, we had a full-house," she said.
Competing with the corporate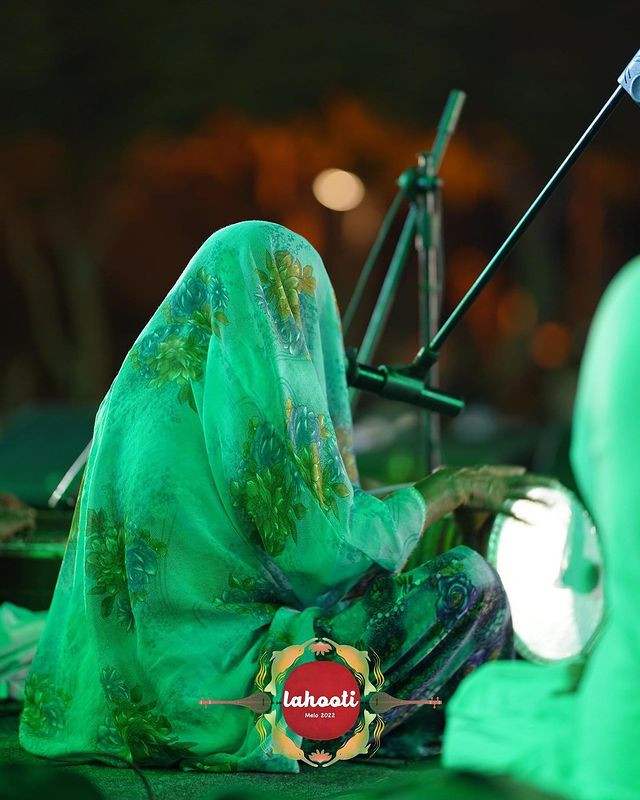 Khoja also assured that "Lahooti never competes with corporate-backed shows" because its is a "trendsetter". Recalling how the festival was the first to introduce the likes of Mai Dhai to live performance set-ups, she added, "Mai Dhai performed on our rooftop as part of the first Lahooti Melo. Before that, we'd watch her on TV or she'd perform at weddings. But after that, she was called to the US for SXSW Music in 2015. She even appeared on Coke Studio Season 8. So Lahooti has always carved out talent and brought it to the forefront – a talent that has later been picked up by corporates."
Khoja alleged that corporate-backed shows, otherwise, make everyday artists wear "orange-coloured capes" to pass them off as "Sufis". "Lahooti has challenged that notion and demanded real representation," she declared. "From Mai Dai to Shamu Bai to Faqeer Zulfiqar, your last Boreendo player who recently received a Pride of Performance Award, Lahooti has featured real talent. The groundwork Lahooti has done. So Lahooti is not a competitor, rather, a trendsetter."
Have something to add to the story? Share it in the comments below.