Once a jewel, today Rawalpindi does not know what it wants to be because it has forgotten what it once was.
In the post-modern world, the topography of the city has undergone a drastic shift. Rapid urbanisation and growing job opportunities have resulted in many cities in the developing world being swamped by an increasing number of people coming in from the villages and suburbs. In order to accommodate this burgeoning populace, the intrinsic structure of the modern metropolis has had to evolve.
Countries such as India and Pakistan have had to grapple with the dual ambitions of wanting to urbanise their cities while also wanting to hold onto their rich architectural heritage. The complex history of a multi-ethnic country such as Pakistan has been razed to the ground in order to erect soulless towers to replace the colonial monuments which have served as a reminder of our turbulent past.
Heritage building encroached on by local traders at Jamia masjid road.
Rawalpindi is an example of a city wrestling with these two seemingly dichotomous aims. On the outskirts of the Rehmanabad Metro station lie some old houses with large verandas and an edifice which is almost reminiscent of the homes in Downtown Abbey. Erected in the early 1960's, they adorned the city with their marvellous porticos and the locality came to be known as Satellite Town. During the time that Islamabad was being built as the nation's new capital, Satellite Town functioned as a diplomatic enclave of sorts, with many embassies located there. The Victorian-style houses were thus built to accommodate foreign dignitaries residing in the city.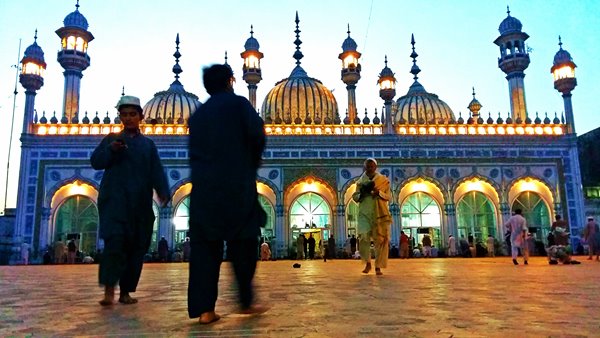 A night view of Jamia Masjid Rawalpindi which was founded in 1905.
Over the years, however, as Islamabad became the diplomatic hub, Satellite Town found itself shrinking in importance, and the neighbourhood was consumed by a city which was expanding at an unprecedented rate. The old houses of the locality now stand like ghostly relics of the past.
Chan bazaar, Rawalpindi.
A view of Raja Bazaar road.
In a house on Sadiqabad road lives an old engineer who has closed the gates of his house, along with his heart, to the outside world. The resident is Afzaal Ahmad, a man who comes from a distinguished family of army personnel. While looking at his old photographs, Ahmad recounts:
"The Rawalpindi I was raised in was a marvel, an image straight from the British calendars. Smooth clean roads, small markets, coffee shops along with a nice book shop (London Books company), low traffic and an orderly crowd."
The main entrance of the Afzaal Ahmad's house.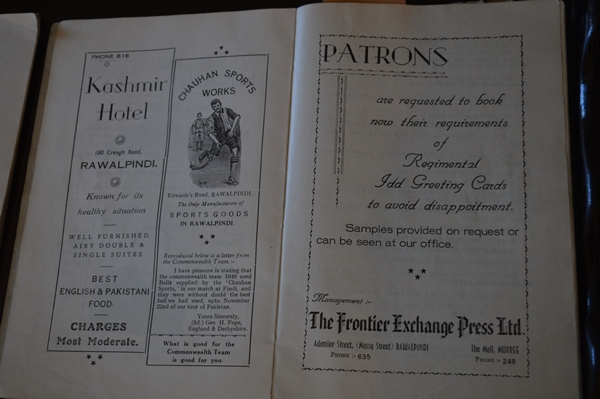 Old magazine ads from the collection of Afzaal Ahmad.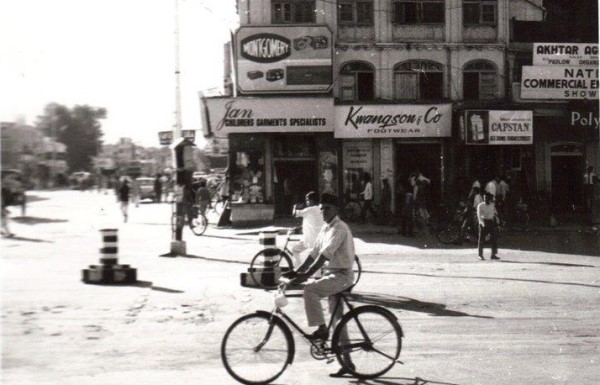 Rawalpindi's Kashmir Road in the 1960's. From the records of Afzaal Ahmad.
The markets at the time were quite small and there was only one major road in Saddar at the time, Mall Road, which catered to everyone's needs. Ahmad recalls that the famous road had a hairdresser, a laundry shop and few clothing outlets as well. He adds:
"I remember most of my classmates in Station school were British or Anglo-Indians. Anglo-Indians were considered to be the most educated after the British. I still remember this one Anglo-Indian traffic sergeant who used to roam around alone on Murree road. People were so afraid of his discipline that they wouldn't cross the road until he had gone away."
Backyard of the house.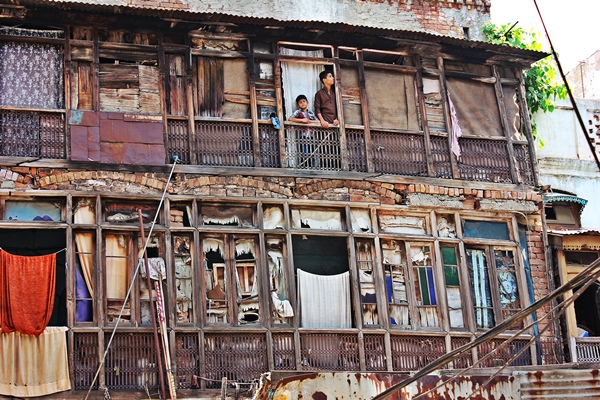 An old building occupied by partition migrants in Saddar.
For Ahmad's generation, and the ones which followed, things took a downward turn after Zulfiqar Ali Bhutto came to power. Fearing the consequences of nationalisation and increasing religiosity, many foreigners fled the country. The Anglo-Indians too fell prey to this and many migrated to America and Australia. The resultant vacuum gave rise to a new emerging class of locals who had a different mentality. They were hungry to tear down the old to make way for the new.
An old temple in miserable condition in Moti Bazaar.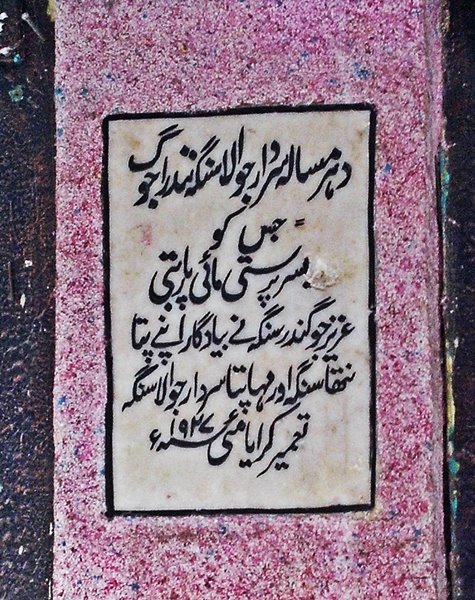 A name plate outside a house in Dhakki mohallah, Angat Pura.
Rawalpindi as a city has always had a storied history. Punjab has been ruled by Graeco-Bactrian Kings and later by the Sakas, Iranian nomads, and in 1765 Sardar Gujjar Singh controlled the area which is now called Rawalpindi. The city remained under Sikh rule till 1849 when it was taken over by the British. Hence, this land has had many identities, and one can find linkages to an extraordinary past through the city's buildings and districts.
A view of Moti bazaar, Rawalpindi.
Despite the removal of the Sikh Raj, the Sikh community remained an integral part of the cultural fabric of Rawalpindi till 1947. Their remnants are still visible in Kartarpura, Angatpura, Arjun Nagar, Mukha Singh state, Old Banni and adjoining areas. The city was predominantly influenced by Rai Bahadur Sujan Singh whose haveli (house) still stands in the old Bhabra Bazaar.
Rawalpindi at one point in time was a jewel, a unique blend of both old and new architecture. Over the years, people that have been allotted these vacant properties have damaged them due to sheer negligence, and today these buildings are but a shadowy reflection of their former glory.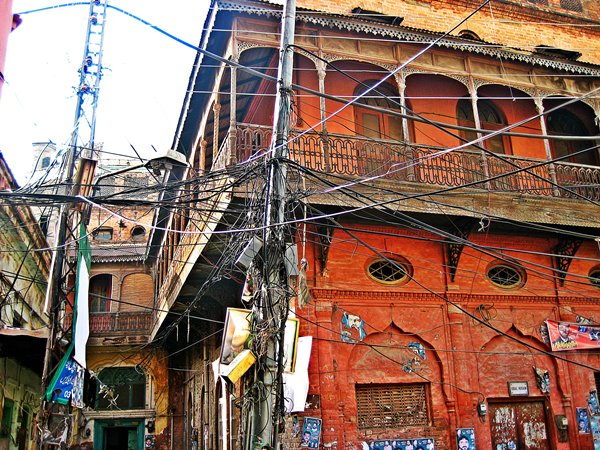 An old pre-partition haveli in Saidpuri gate trying to save its colors from the wrath of the modern age.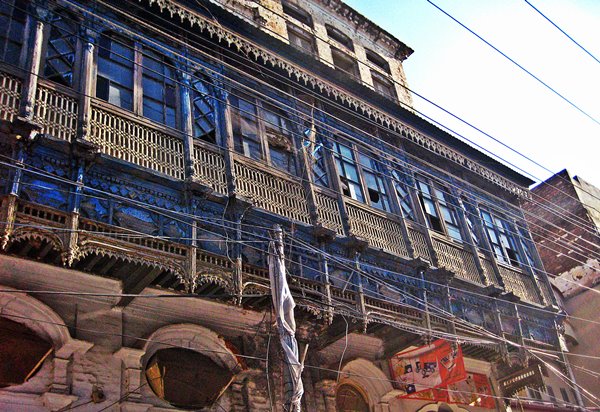 A colonial style balcony on College Road, where famous Indian actor Balraj Sahini grew up.
Rawalpindi today is a chaotic labyrinth. Building laws and municipal regulations are virtually non-existent. Politicians and profit-driven land owners have given local municipal authorities the approval to demolish heritage buildings and sites. Commercialisation has trumped heritage. Heretics have squashed history. Rawalpindi still has the potential to become the epicentre of regional heritage, but only if preservation work is begun immediately.
Today, the view from the metro bus offers a gloomy look at a frenzied skyline onto a city which does not know what it wants to be because it has forgotten what it once was.
(All photos by author)