PUBLISHED
November 20, 2022


KARACHI:

There are many things to appreciate about a literature festival. The discussions on globally relevant topics, meet and greets with renowned authors, and of course discussions on literature itself.
The 41st Sharjah International Book Fair (SIBF) comprised a comprised a variety of these much-appreciated cultural nutrition through its 12-day programme and for a second year in a row, also included the world's largest book fair. A huge participating population for the fair were students as it included a variety of books from local and international writers.
Many renowned celebrities also attended the festivities including Bollywood actor Shah Rukh Khan, football legend Zlatan Ibrahimović, Egyptian actor Karim Abdul Aziz, lead star of The Blue Elephant; Egypt's renowned action hero, Ahmed El Sakka; and Saudi Arabia's prized musician, Abadi-Al Johar.
Amongst the writers, Sudanese historian Yusuf Fadl Hasan was celebrated as 'Cultural Personality' of SIBF 2022 while the fair also hosted Sri Lankan author Shehan Karunatilaka, winner of the 2022 Booker Prize; Geetanjali Shree, Hindi-language author and winner of the International Booker prize; Algerian novelist Waciny Laredj, Egyptian writer Ahmad Mourad, and author Sultan Al Amimi, Chairman of the Emirates Writers Union, amongst others.
Over 200 cultural discussions took place at the SIBF on some of the most prominent issues impacting Arab and world literature and explored challenges of translation, delved into the future of communication, and offered insights on the importance of research, documentation and history.
One of the highlights of this year's festival was light the book fair shed on the African experience in literature through the African – Arab Cultural Programme and celebrated writers of the contemporary diaspora with a special programme encompassing performances and activities in literature, art, fashion, and music.
According to a statement released by SIBF, Sharjah Book Authority Chairman HE Ahmed bin Rakkad Al Ameri, "One of the core goals of the book fair is to raise awareness on the importance of reading, and build communities that believe in the value and impact of books. We have achieved this goal to a large extent. Our goal is to transcend the idea that reading is an activity for intellectuals only."
The statement also included comments from the General Coordinator of SIBF who said, "SIBF's vibrant agenda of activities offered a comprehensive experience that attracted visitors and distinguished artists, sportsmen and authors from all around the world."
"The high footfall is a clear indicator of the status and importance of the international book fair in meeting the demands of its guests, regardless of age and nationalities," he added.
The Seven Moons of Maali Almeida
Another valuable highlight of the festival was the discussion with author Shehan Karunatilaka on his Booker Prize winning novel 'The Seven Moons of Maali Almeida'. At its heart a murder mystery but set during a very volatile period in Sri Lanka's history, the author described his prize winning novel as "the story of a man looking back on his own life and trying to solve his own murder".
"My hope is that readers will ask: did it really happen? And that they will find it difficult to believe the events that unfolded in Sri Lanka's devastating 1983-2009 civil war, which forms the setting of the book," said Karunatilaka.
'Bestseller Books Phenomenon'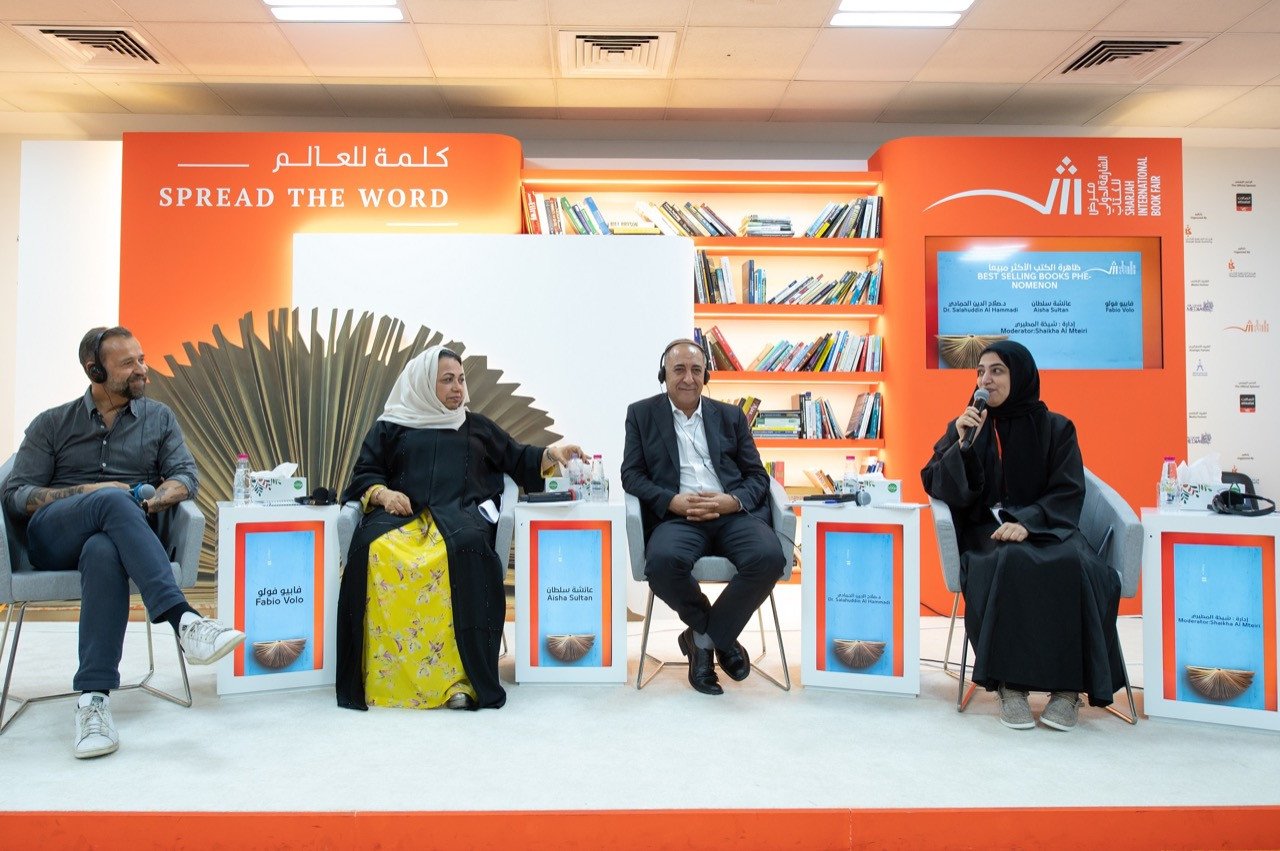 A panel discussion on 'Bestseller Books Phenomenon', outlined how from time immemorial people have wanted their creativity to reach a wider audience.
"It is said that poets used to send their words through the wind during pre-Islamic times. Wanting to make one's book a bestseller is also about fame. It's not a new concept, it's something that has always existed," said writer Dr Salahuddin Al Hammadi, at the session moderated by Sheikha Al Muthairi.
"In the contemporary world, publishers face several challenges in their efforts to 'spread the word'. We must always remember that publishers are not cultural carriers; they are business professionals who act as cultural messengers," he added.
Bestselling Italian author Fabio Volo said, "I buried myself in books as a teenager, primarily because I didn't want to be left behind since I had stopped going to school and was helping my dad at work. Much later, I realised that I was a voracious reader and was better informed on books than most of my friends attending university."
'Shoaib Akhtar bowls over audiences with untold stories'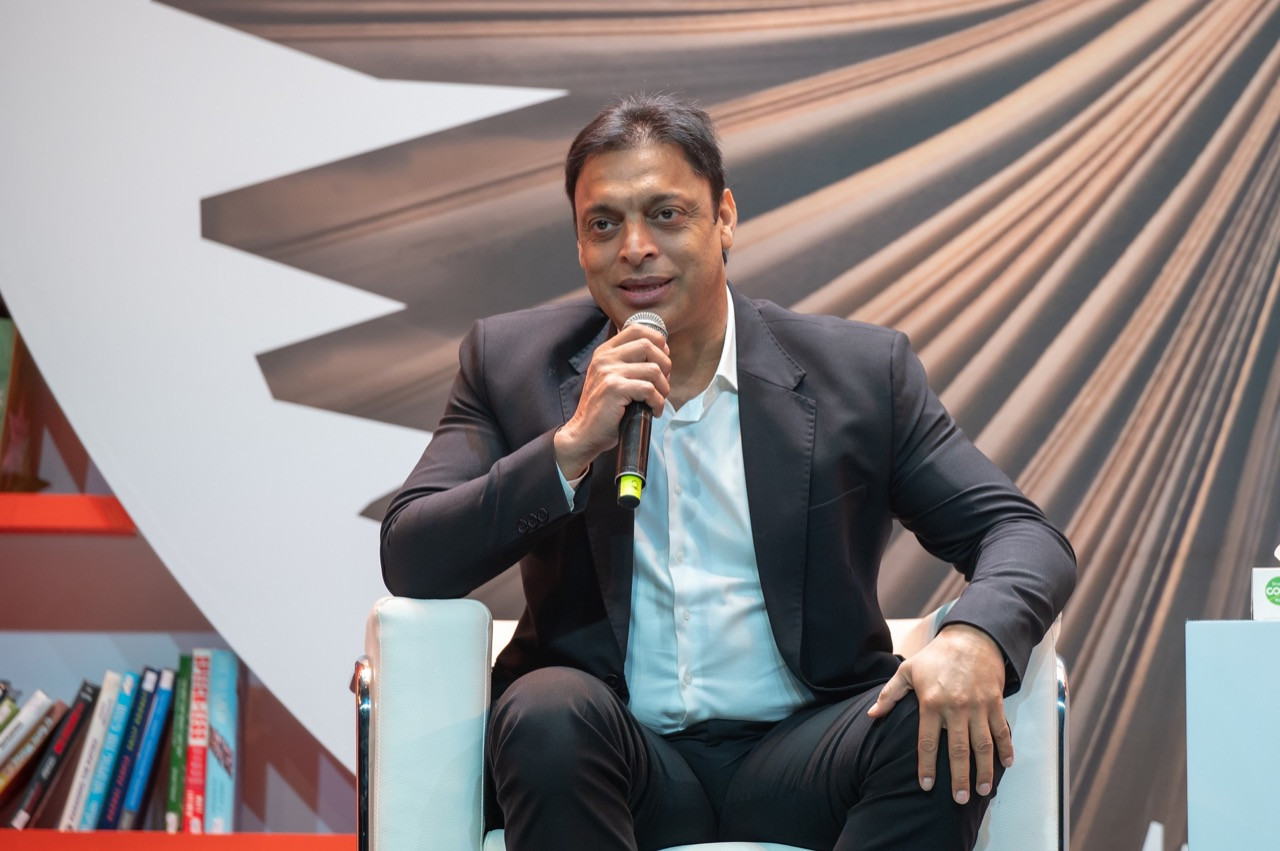 Shoaib Akhtar, the fastest bowler in the history of cricket, revealed unknown facts about his personal life and the story of his journey to becoming 'Rawalpindi Express,' during a one-on-one session.
A specialsed performance in 'Dastaangoi' style by poet Sahil Agha was organised to honour the legendary Pakistani cricketer. After the specialsed performance, Akhtar, the 'stump-wrecker' as he is popularly known, discussed poignant facts about his life with host Tarannum Ahmed, weaving interesting anecdotes from his memoir Shoaib Akhtar Controversially Yours into the conversation.
The cricket recalled how when he started playing cricket, a few elderly aunts would pester him with questions, and his reply would always be, "I am going to become Imran Khan."
'Better Home Décor'
During an interactive segment on interior design, Aya-Maria Nehmé, introduced various interior design elements. "By taking this class today you'll learn how to complete your home project no matter how challenging and overwhelming it becomes. It means that you're going to conquer your fear, pick up your measuring tape, your scrapbook and start your creative journey, here and now," said Nehmé
"Craft your home courageously because in design, mistakes produce happy little accidents and these accidents can actually become the unique touch in your home to help you discover your style and get acquainted with your space," added Nehmé