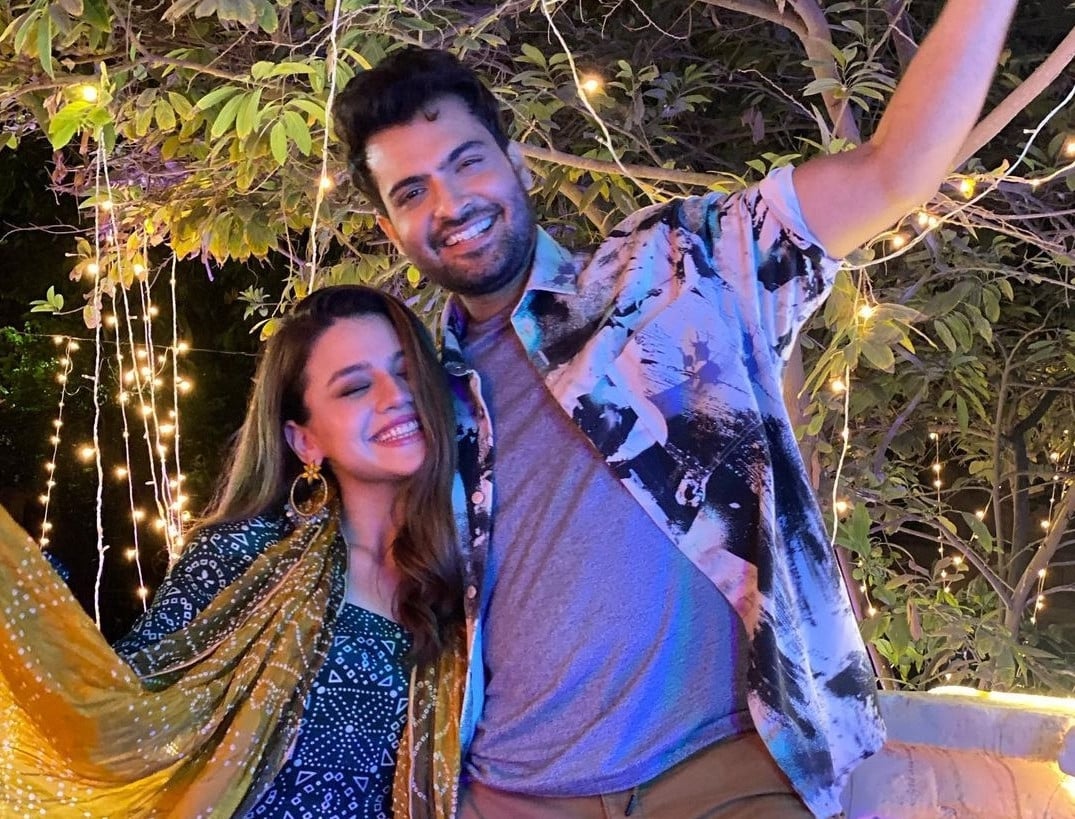 ---
Zara Noor Abbas didn't have it easy coming into the industry despite her mother Asma Abbas being a veteran actor. Her father, who was in the armed forces, was never too fond of her joining a film school and wanted her to pursue a career in law instead. But her brother, his wife, and her mother stood by her against all odds.
Talking about how she convinced her father to study at Beaconhouse National University in Lahore which primarily focuses on media and its specialisations, the 31-year-old actor told Fuschia how her bhabhi (brother's wife) convinced everyone including her mother. "My mom didn't mind me going to a film school but she was also scared. Her support wasn't as loud as always. It was my bhabhi who first convinced my elder brother and then my dad to let me do what I want to."
Expanding on how her father's views about art, music, and dramas changed over the years, she added, "Our house was frequently visited by Mufti Sahab, Amy Minwala, Zarina Baloch, and such big stars that even my father knew he wouldn't be able to stop us from joining the media industry. But we also had a balance. When Ahmed (younger brother) and I stay late at night to work or he's writing music, he often used to get annoyed that 'what work happens at night? Why can't it happen during the day?' But now he's so supportive and understanding that he discusses my work with me. With Badshah Begum especially, he sends me reviews of my episodes and discusses the character and feedback. I see Instagram later, I get notifications of publication reviews from him first."
Zara then expanded on how it's not essential for someone to go to a film school or a media school to be an artist. "In my opinion, art cannot be learned. It's an innate, god-gifted skill. You require a certain tone, rhythm, and emotion. No matter where you are in the world, if you know how to capture emotions, you're a filmmaker. If there's someone who likes to tell stories and can catch attention with it, they're a filmmaker. They can make films because your education will teach you technicalities about the script, climax, anti-climax, etc. but not the art itself."
The Ehd-e-Wafa actor has also tried her luck several times in Hollywood while she was in New York City before starring in Pakistani dramas. She lauded all local actors who have worked in industries abroad and have made a name for themselves saying that the competition is incredibly high and it's a very difficult process.
"Before I got in touch with Faheem Burney for Dhadkan, I auditioned for Gotham City. I went in with a monologue prepared and I was of course nervous and scared. I went in and began with my monologue and before I was done, they said next, please. I was like okay, I'm leaving. You don't have to be so rude about it. But jokes apart, it's a difficult process given the ethnicities and the number of people who come to audition. Kudos to all the Pakistani stars who have gone through the process and made their mark
Moving on to relationships, Zara once shared that candlelight dinners and movies aren't important for a healthy relationship. Talking about the three things that really matter in a relationship, she named trust, time, and care for each other's sentiments.
"Asad and I are a very different couple. We're very family-oriented and so we spend lots of time with family. We have now started working out together. We talk about cinema, world issues, and so many things together. We don't, however, like to be involved in the world of showbiz or the fast-paced social media life. In fact, we try to unlearn things from these spheres. We have lots of conversations about the afterlife and such. We also clean the house together," Zara said about her married life with Asad Siddiqui.
On the idea of shared love between them, she added, "Love isn't a surface-level thing. It's a very spiritual thing that is beyond the idea of presence and touch. There are different levels of love. In Urdu, saath, muhabbat, pyaar and ishq are four different things. We often mix them."
Taking a jab at how the word love is often played with, she added, "We're used to blurting out the phrase 'I love you'. But I care for you and I respect you are better than I love you. People say they love you but they won't let you get out of the house. They love you but they want to kill you. They love you but they won't let you have your choices. What kind of love is that? I'd rather have care and respect than love."
When speaking about what's on Zara's mind these days, she was quick to say inflation and the hot summer. Lamenting how oil prices and dollar prices are going up, she said, "I'm very worried about the country's economy. It's a dark time for Pakistan. It's very tough, especially for the middle-class white-collar person. The rich are always in a better, safer position but people who are living just under the poverty line, they can't ask for help and they're under huge trouble."
Lauding and feeling sorry for the state of Pakistan at the same time, she exclaimed, "Pakistan itself is a very tough place to live in. It happens so often, that the country drops and comes back up and I hope it revives again soon to good days. I'm often surprised by the resilience of this country–it's as if it's always in survival mode."